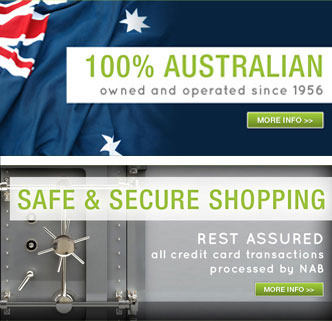 Welcome to Ryda Dot Com.
At Ryda Dot Com we hope your experience is made simple and easy to navigate and extremely safe to shop.
We understand that an online business is about allowing you the customer an easier option to shop and providing you an alternative from the hectic life you lead.
Our retail experience over the past 60 years ensures that you'll experience the best speedy service that we possibly can offer, as well if you choose to seek advice on any of our products our dedicated customer service consultants will recommend or offer information unbiased re products from suppliers that we have a direct relationship with.
Customer service is another commitment we take seriously, our proven reputation and record of quality support won't leave you stranded.
We are real people and love to help wherever we can. Our premises are located in Sydney, NSW where we own and have operated our retail business for over 60 years.
If you choose to visit us you'll find us at 730 Parramatta Rd, Petersham. You'll experience over 90% of the products that we range in store on display as well we offer installation of all the products we market and for the keen individual we offer custom installations.

Also our team of customer service representatives guarantee their commitment to ensure that your order will be picked, packed and promptly shipped subject to matters out of our control.

I hope this quick overview about us gives you the confidence to shop with us online
And the safe experience you would be looking for.

Follow us on social media

CONTACT US
To contact us by email please see the bottom of this page.
Sydney Showroom – for Sales and Car Audio Installation
(please call 02 9568 8888 for an appointment)
Address – Ground Floor, 730 Parramatta Road, Petersham NSW 2049
Sydney Showroom Opening Hours
Monday – Friday: 8:30 AM – 5:30 PM
Thursday: 8:30 AM – 6:30 PM
Saturday: 8:30AM – 4:00PM
Sunday: Closed
Public Holidays: Close
Online Sales Support
Our Online Sales and Support team are available during our regular business hours listed above. Please use our Chat located on the bottom of your screen or the Need Help link at the top of our site. If one our of our team isn't available, leave us a message and the next available team member will get back to you.