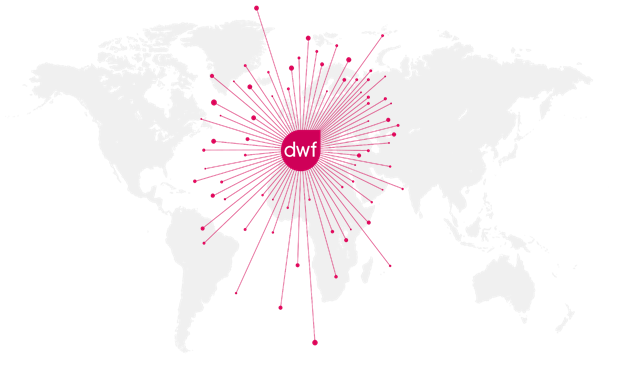 Who we are
We are a global legal business, transforming legal services through our people for our clients.
Led by Managing Partner and CEO Andrew Leaitherland, we have over 3,100 people delivering services and solutions that reach beyond expectations.
We connect on a global scale, sharing our knowledge and technical expertise to identify and anticipate challenges for clients within their sectors.
In Australia, Led by Managing Director Jamie McPherson and Chairman Mark Hickey, DWF heads a powerhouse team of specialised lawyers who are experts and leaders in their chosen fields.
We work with a range of clients from multinational household names to private individuals, from both the public and private sector. Building business relationships that inspire trust and confidence across all levels of our business means we deliver an exceptional client experience.
By questioning traditions and thinking beyond conventions, we achieve outstanding levels of innovation through our range of consultative services, technology and products that complement our legal offering
Commercial Capability
DWF's Commercial Law Team are recognised for their skill in managing the complex balance between planning, accurate scoping and business analysis, day-to- day governance, flexibility, acceptable costs and incentivisation.
Whether you are looking at outsourcing, putting in place terms and conditions, or involved in manufacturing, supply and logistics, strong commercial agreements need to be in place. While other lawyers may advise from narrow areas of experience, our approach is to work collaboratively, across the firm, to draw on a deep and wide knowledge of the industry challenges you face. We are committed to providing high quality and innovative commercial legal advice and assistance to our clients.
Our Commercial Law specialists can draft a wide range of contracts and advise on a wide range of commercial matters, including:
Business Contracts;

Data Protection & Information;

Competition Law;

International Trade;

Intellectual Property Law & Licensing;

Regulatory & Governance;

Public Procurement;

Outsourcing;

Technology, Media & Communications;

Sports (including Esports); and

Entertainment.